Soundscraping
— using the Internet to share, play, process, and mix live sounds from the world at large.
This is a call for worldwide participation
for a series of "live crowdsourced soundscaping" performances, beginning in San Francisco, California this March.
The
Soundscraper project
seeks volunteer-participants to stream live sounds from their environments over the Internet, based on a schedule of requests for specific "place-sounds".
Introductions to the Soundscraper project are available here on this site, including descriptions of current project activities and
what to expect during Soundscraper performances
, as well as the inspirations and some of the
long term goals of the project
.
HOW TO PARTICIPATE IN A SOUNDSCRAPER PERFORMANCE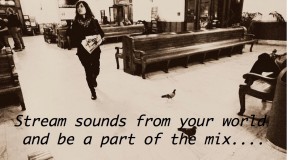 The premiere Soundscraper performance will take place live in San Francisco at
The Center for New Music
on March 10, 2014, from 8:00 to 10:00 PM PDT (March 11, 2014, from 03:00 to 05:00 AM GMT). Here you will find
the schedule, or "score", for the performance
which serves as the rough guide for your participation.
Here is the guide
to obtaining, installing, and using the currently recommended live-streaming application (
Ustream
), as well as how to provide your sound stream to a Soundscraper performance.
If you will consider participating in any upcoming Soundscraper performance, please send your contact info to
participate@soundscraper.org
To participate in our first, "maiden voyage", performance on March 10, 2014, please e-mail the above address no later than March 1.
(Please replace the subject, or include a line, to say "I want to send a sound stream".) We will contact you to schedule a 15-to-30 minute period in which to test our streaming connection and to cover a few details about the upcoming performance.
Soundscraper was conceived by composer
Thom Blum
.